Sleepbreathe Comprehensive Sleep Breathing Monitor
Sale price Price $99.00 Regular price Unit price / per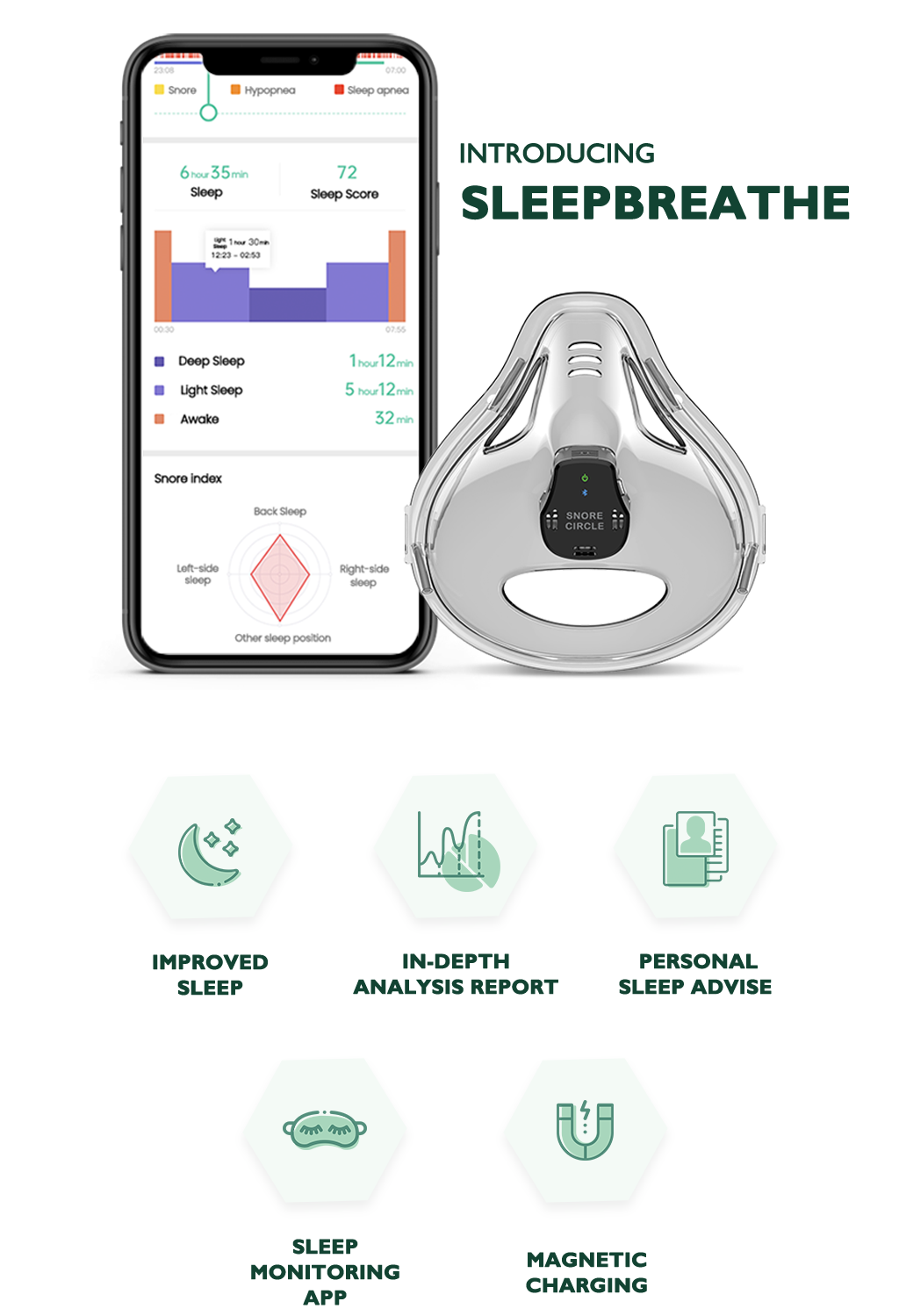 Sleep plays a vital role in good health and well-being and we spend one-third of our lifetime doing it. Getting quality sleep each night should be a priority. Achieving sleep quality is possible but to do so requires careful monitoring. 

70% of Americans suffer from sleep disorders that are directly detrimental to physical and mental health.Despite the high prevalence of sleep disorders, the overwhelming majority of sufferers remain undiagnosed and untreated, creating unnecessary health and safety problems and increased health care expenses.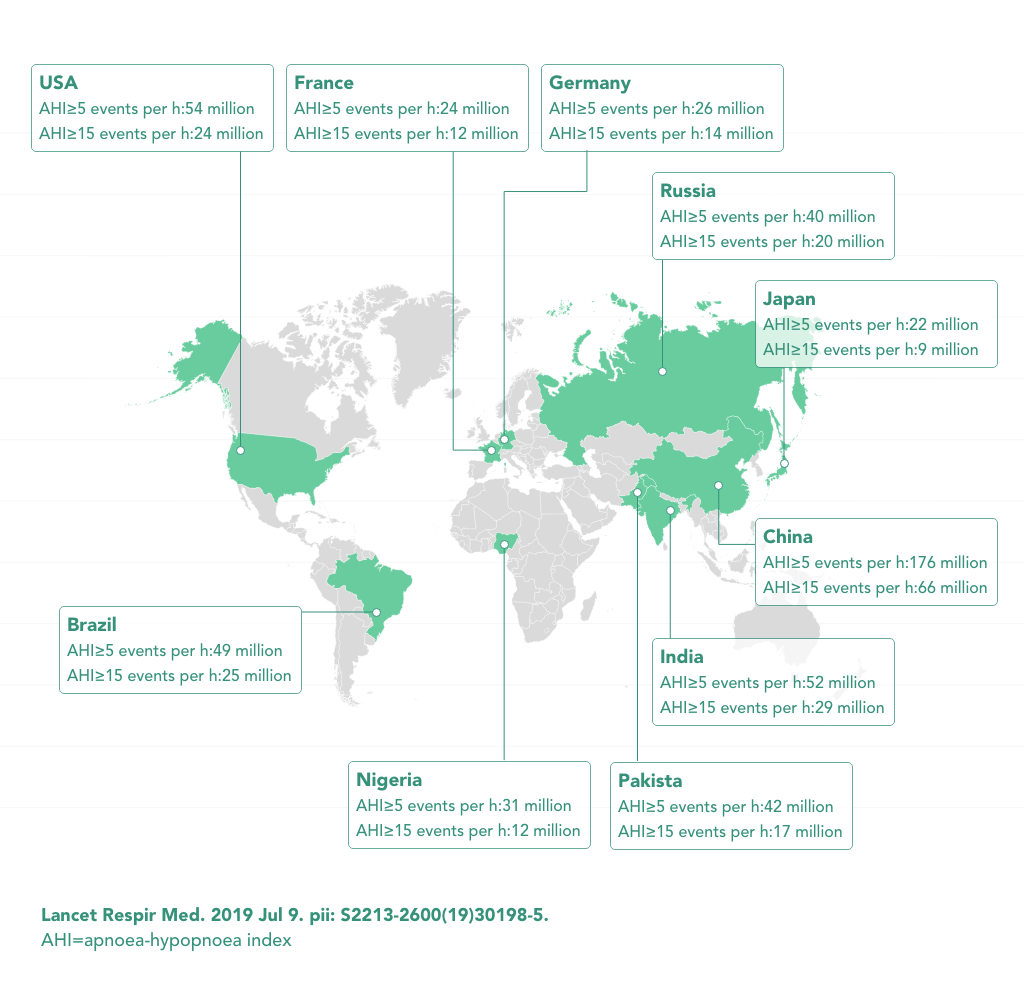 If you often snore or wake feeling tired, you may be affected by common sleep disorders. Until now, diagnosing these conditions required costly and time consuming specialist doctor visits. That's why we created Sleepbreathe. It is an innovative home-use smart wearable to monitor breathing during sleep. With direct breathing airflow data collection, powerful AI algorithms and medical-grade biosensor, Sleepbreathe tracks your sleep and analyzes sleep data accurately for better sleeping health management.


Sleepbreathe uses a medical-grade sensor to measure and calculate each breath with high accuracy. This method is preferable over the imprecise blood oxygen level estimation that other systems use. It makes Sleepbreathe a pioneer of the sleep breathing monitor industry.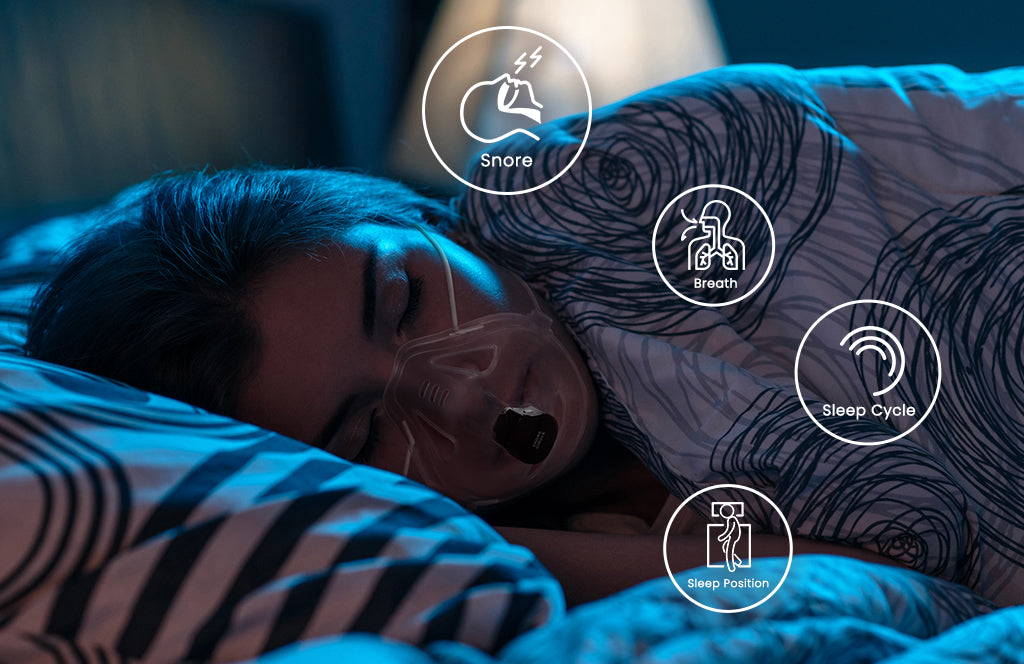 Sleepbreathe collects data during sleep in the most convenient and comfortable way. It eliminates the need for expensive and time consuming sleep study diagnosis. By monitoring breathing, snoring, sleep cycles and sleep positions, Sleepbreathe comprehensively and accurately measures your sleep conditions.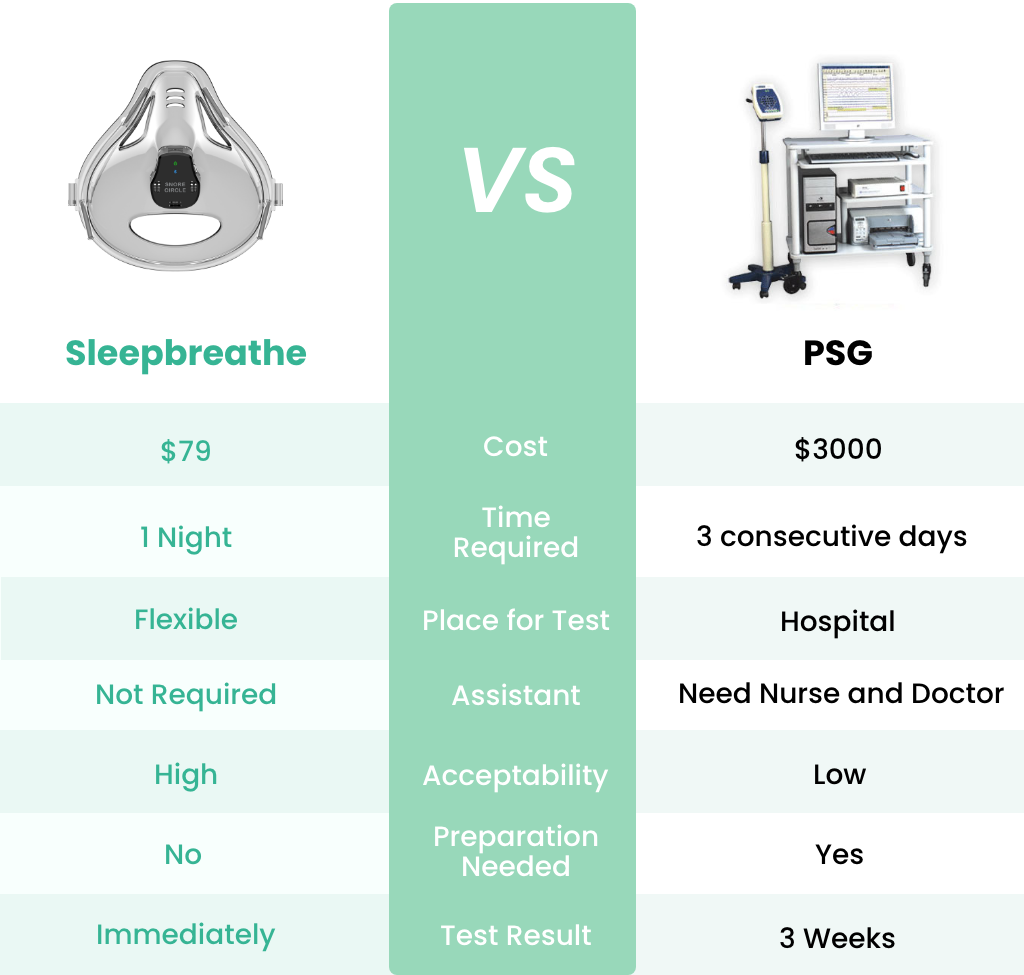 Over hundreds of rigorous tests, Sleepbreathe has proven to be equal in accuracy to PSG machines while being far more affordable, compact and easy to use.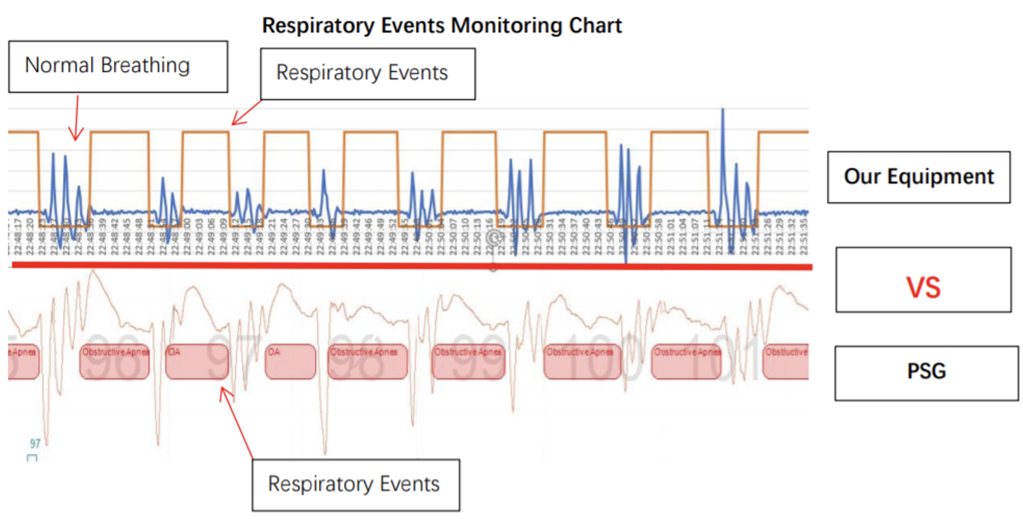 Advanced technology tracks important information about your sleep

 
Snoring can be a sign of sleep apnea which has significant health effects and requires constant monitoring. Sleepbreathe provides users with snoring data analysis through our patented algorithm and intelligent calculation of the snoring condition.
Sleepbreathe's advanced algorithms, measure critical sleep data without the need to visit a sleep clinic. It can be done conveniently at home, recording and computing all the data immediately to produce statistics graphs and an in-depth analysis report to understand your health condition and prevent potential sleep disorders.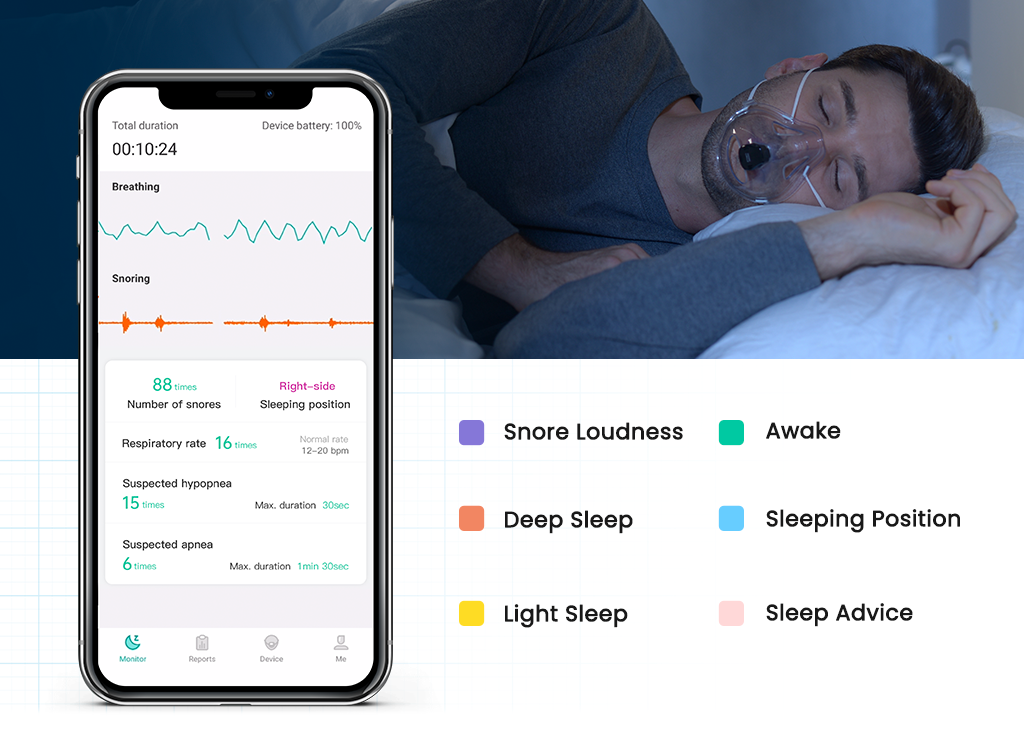 Check the sleep information through the app to analyze your nighttime breathing and see the way it changes after waking up in the morning. Understand all your sleep details in a clear way to monitor the occurrence of respiratory events and improve overall sleep health.
Specialized  sleep advisor


 
All of your sleep data will be compiled into an easy to understand score that provides insight into your physical condition and measures the most important sleep metrics such as snoring frequency, volume, and time along with detailed suggestions to improve your sleep quality.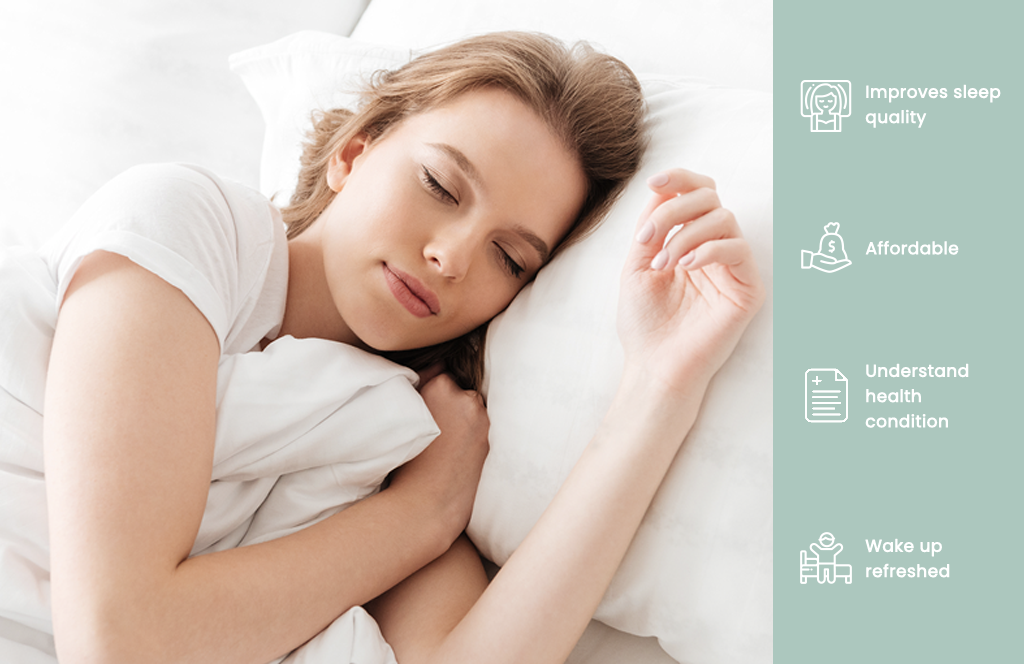 Built-in medical-grade sensors, and three directional probes assists Sleepbreathe to measure, record and analyze airflow in all directions to accurately monitor breathing.
Sleepbreathe starts to work right after you put it on with real-time monitoring. The appearance of the smooth waveform implies a normal breath. Any anomaly of the waveform indicates that a respiratory event is occurring and being analyzed.